Published on Wednesday, November 28, 2012 | 12:58am
Written by Justin Hoch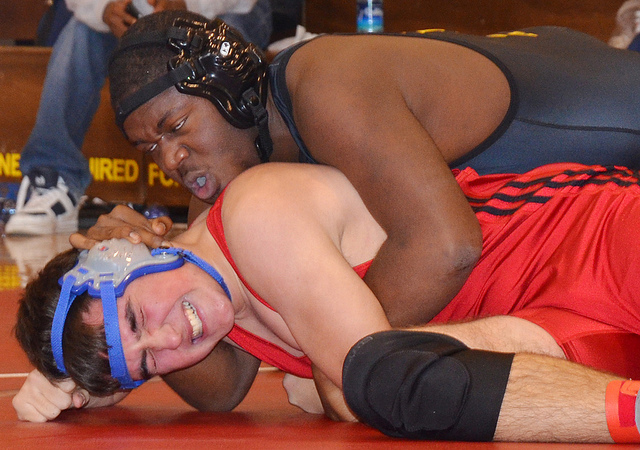 The 2012-13 High School Wrestling season kicks off this Sunday, December 2nd, with the PSAL-staple Charles Glass Memorial Novice Wrestling Tournament, a four-site wrestling extravaganza which initiates the newest high school wrestlers into the wrestling family. Only wrestlers with no prior varsity or Charles Glass experience are eligible, so this marks the first time most of them have stepped foot on the competition mat.
History of the Glass
Starting in the early 1970s, in the early dawn of PSAL wrestling history, the novice tournament has forever been a rite of passage for many student-athletes, and an annual starting gun for the new year. Charles Glass was one of the first Commissioners for wrestling in the PSAL and following his untimely death in 1987, the tournament was memorialized in his honor.
Larry Cantor, a former Commissioner of wrestling himself, and resident wrestling historian, knew Glass well. He remembers him fondly and laments his passing, saying, "Charley was a great man. He was a teacher and football coach at Bryant High School. He suffered terribly from throat cancer. On a personal level, I was always happy that he was there to watch me as the first New York City referee that was ever at the states."
Competition Locations & Schedule
Brooklyn/Manhattan
Location: Franklin D. Roosevelt, 5800 20th Avenue, Brooklyn, New York 11204, 718-621-8800
Schools competing: Automotive, Brooklyn International, Wingate, Grand Street, Beacon, Canarsie, Brooklyn Tech, Baruch, Midwood, Franklin D. Roosevelt, Erasmus Hall, Sheepshead Bay, James Madison, Leon Goldstein, Abraham Lincoln, New Utrecht, William Grady, Boys and Girls
Weigh-ins: 7:30 am - 8:30 am
Wrestling Begins: 9:30 am
Queens
Location: Francis Lewis High School, 58-20 Utopia Parkway, Fresh Meadows, New York 11365, 718-281-8200
Schools competing: Queens Educational Complex, Queens Vocational, Information Technology, Flushing, Aviation, Robert F. Wagner, Jr., Newtown. Grover Cleveland, Townsend Harris, Hillcrest, Benjamin Cardozo, John Bowne, Springfield Gardens, Thomas Edison, Francis Lewis, Forrest Hills, Jamaica, Maspeth
Weigh-ins: 7:30 am - 8:30 am
Wrestling Begins: 9:30 am
Staten Island
Location: Port Richmond High School, 85 St. Josephs Avenue, Staten Island, New York 10302, 718-420-2100
Schools competing: Petrides, Curtis, McKee/Staten Island Tech, S. Wagner, New Dorp, Port Richmond, Tottenville, CSI/McCown
Weigh-ins: 10:30 am - 11:30 am
Wrestling Begins: 12:30 pm
Manhattan and Bronx
Location: Herbert H. Lehman High School, 3000 East Tremont Avenue, Bronx, New York 10461, 718-904-4200
Schools competing: Martin Luther King, Jr., Stuyvesant, Mott Haven, Alfred E. Smith, Murry Bergtraum, Bryant, Long Island City, East Harlem Pride, Bronx Science, Herbert H. Lehman, Riverdale/Kingsbridge, Eagle Academy, Harry S. Truman, Fannie Lou Hamer, Hunter College, Bathgate, George Washington, A.P. Randolph, Banana Kelly, DeWitt Clinton, Jane Addams, Taft
Weigh-ins: 7:30 am - 8:30 am
Wrestling Begins: 9:30 am
All entries must be submitted on line at www.gimpsoftware.com not later than Friday, November 30th 5:00 p.m. No entries will be permitted the day of the tournament.
For complete information, check out the PSAL website's informational page.